Cottage La Ferme in Blanquefort sur Briolance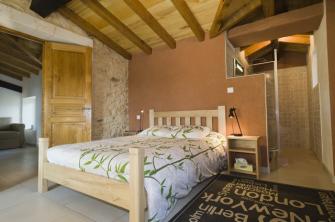 The Mayne farm is composed of two large stone buildings. The most recent one, the cowshed, was built less than a century ago. This "barn" - as people call it – sheltered hay and straw, along with about fifteen Aquitaine cows up until the beginning of the the 1980s. These cows produced calves called milk calves, since they were only fed on their mother's milk.

On the other side of the yard is a long building that faces south. It has been through the revolution, and 250 years later still stands tall against the southerly wind that warms up its walls from solstice to equinox.

Surrounding the farm, fifteen hectares of farmland preserving the residents' tranquility make for a faraway horizon line from north to south, from dusk till dawn. This creates a vast view of hills and dales.

I have decided to greet you here, in this house that has witnessed the birth of several generations of farmers who fed the country for centuries, before being swept aside by industrial and profitable-oriented agriculture.

The Holiday gîte "La Ferme" ("The Farm") has thus been located in this family home that I restored according to traditional methods with wood, local tile and stone, and that I insulated for your comfort with materials respecting the "high environmental quality" standards: wood wool, earth and lime coatings, and double-glazing (wood and aluminum) for doors and windows.


On 120 square meters, the farm opens on to a hallway with cachet that gives way to two rooms, including one with access for the disabled. From the entrance, you can also access a laundry, an independent toilet and a large 50 square meter living room. This main room facing south-east features a fully-equipped kitchen with a large storage space, as well as a living-room, a dining room, and a deck facing the sunrise and leading to a private garden.I chose to preserve in good working condition the old chimney in which my grandmother and mother used to cook duck "grattons" and polenta with the ultra-fine flour from white corn. Preserved through time, this chimney has a heat recovery system to warm up mid-season evenings.

Equipment :
Both rooms are equipped with a bathroom, a wardrobe, a clothes valet, a chair, outlets for TV, telephone and computer. Both have large beds: one room has a 140cm bed, the other has a 160cm bed. Both have bedside tables with lamps.

Laundry : Washing machine, dryer, ironing equipment

Kitchen : oven and propane gas hobs, microwave, dishwasher, large refrigerator and freezer, large storage space. The furniture is made of solid oak.

Living-room : Sofa (for 2 or 3 people), two chairs and coffee table.

Dining-room : table for 10 people, two benches, two chairs and a buffet, all in solid oak and walnut.

Deck : garden furniture, 4 chairs, a table, and a barbecue

Environment : Several marked hiking paths, and access to meadows, fields and woods.

PRICES

Very high season (July 7th to August 17th)
- 1 week : 485 €

High season (June 30th to July 6th and August 18th to August 24th)
- 1 week : 425 €

Mid season (May 26th to June 29th and August 25th to September 21st)
- 1 week : 285 €

Off season (January 7th to May 25th and September 22nd to December 21st)
- 1 week : 245 €

SERVICES

• Sheet rental
• Cleaning (optional)
• End of stay cleaning (on request, €25 for the stay)
• Sheet renting for 1 bed (on request, €6 for the stay)
• Towel rental for 1 person (on request, €5 for the stay)
• Firewood (1 m3) (€40 for the stay)
• Heating fee for one week (€30 for the stay)






Les Résidences du Mayne
Le Mayne
47500 Blanquefort sur Briolance
France
Phone : 06 66 01 61 94