The surrounding areas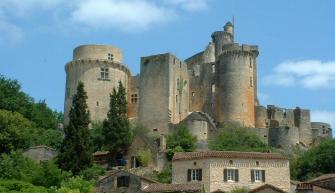 In the close surroundings, two remarkable castles can be visited: Bonaquil in the south and Biron in the West. They still hold the secrets of men who dominated the region at their time.
A few kilometers away you can find three Bastides: Monpazier, the most famous one, but also Villeréal and Montflanquin. They are real market towns where many craftsmen, who perpetuate traditional methods, practise their art on all kinds of materials and natural elements such as leather, wood, earth, stone and glass.
From the Mayne farm, the towns of Boétie, Sarlat, and its castles nearby, Dôme and Beynac, all placed between the Dordogne and Lot region, north of Mayne can be easily reached by car in one hour. And of course, there are the famous caves of Lascaux. A visit in the castles of Milandes will allow you to discover the extraordinary life of Joséphine Baker.
The Dordogne valley, which winds through famous villages and castles, provides many opportunities to practise water sports such as rowing, canoeing, kayaking and canyoning.


Also withing a one-hour drive east, you can discover the town of Cahors and its famous "Pont des Amoureux" ("Bridge of lovers"), the caves of Paridac, and Rocamadour and its legend.
Closer to Mayne, less than 15 km away, the town of Fumel is your gateway to discover the Lot valley with its barge cruising, its rowing and canoeing clubs, the Lot banks and its protected ecosystem, its many shops, its swimming pool and its golf course.

15 km away, at the "Bride du Cazal de Vergt de Biron", Didier and Céline (members of the French Horseback riding Federation), welcome beginners and professionals for rides or private lessons.


Au Parc arc en ciel à Lacapelle biron ( 6km) un site accro-branche accueille enfants, adolescents et adultes avec un grand parking et une aire de pique nique. Tous commerces, pharmacie, cabinet médical.

A Sauveterre la Lémance, (6km) un musée de la Préhistoire et ses marchés fermiers nocturnes qui permettent de déguster foie gras, confit, magret de canard…Tous commerces, pharmacie, cabinet médical.





Les Résidences du Mayne
Le Mayne
47500 Blanquefort sur Briolance
France
Phone : 06 66 01 61 94