The property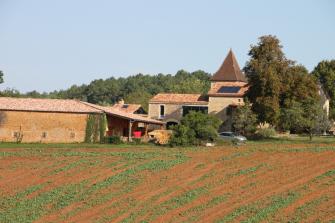 Placed on a rocky promontory, the "Mayne farm" faces south and is protected from the natural elements of the north.

It is an ancient, robust property that witnessed the arrival of new generations. For centuries, its historical and geographical environment has played a key role in the region, the country, and in Europe.
It hosted a few emblematic figures and events: the Prince of Navarre, who was traveling up to Paris to become Henri IV, Jacquou le Croquant who stayed a few hundred meters north, and 50 years of resistance against Simon de Montfort's killing frenzy, who came to eradicate heretics.
From that unforgettable period remain the famous "Bastides" - walled towns built during the 13th century - located a few kilometers from "le Mayne" and admired by visitors from the whole world.


For several centuries now, the Mayne has witnessed the passing of seasons, human madness, the power of nature and scientific progress.


Today, on its thirty-hectare land, the wheat that is so vital for human culture still grows, as do the vineyards whose wine is so essential for working and partying. And of course, in its woods of oak, pine, chestnut and furn, lovers of fine cuisine will thrive on delicious mushrooms such as ceps and chanterelles.





Les Résidences du Mayne
Le Mayne
47500 Blanquefort sur Briolance
France
Phone : 06 66 01 61 94